October 14, 2021
At Daniel Heath Studio we are very pleased to announce our collaborative project with DFS to design a fabric for its limited edition Team GB Yuttari range, launched to celebrate the Tokyo Olympics.  Daniel has taken inspiration from the Team GB athletes, their families and fans, and the thought of supporting the athletes with the comfort of home was pivotal to creating his unique illustrations and designs.
The full limited edition collection is available now from DFS, with three bespoke fabrics designed by Daniel available (Landmarks, Blossom and Athletes) in a choice of blue, steel or sage.
Exploring the similarities between the two ancient island nations of Japan and Britain, Daniel's designs – rendered in a style inspired by traditional Japanese woodblock printing – feature British landmarks, such as the Giant's Causeway, Edinburgh Castle, and Clifton Suspension Bridge. Study the designs closely and you'll see our Team GB athletes in training.
Daniel explains his inspiration in more detail: 
"When given the task of finding a narrative for a pattern for the Team GB limited edition Yuttari range to mark the Tokyo Olympics, I immediately started to think of the athletes. I considered their commitment to their sport and the honour of representing their country and that they are young folk spending time away from home. For the athletes, I wanted to provide a sense of sanctuary, a familiar view, a postcard from home."
"The scenes I selected to draw are some of Britain's finest vistas. I was not short of options and I had a wonderful time searching for the chosen views, taking me on a mental and physical tour of my homeland. I put into consideration what defines our landscape: we are an island, so we are surrounded by dramatic coastlines! We are an ancient land, with a rich history and so we have ancient monuments and fortifications. In these respects, Japan shares many characteristics with Britain, and so it has been interesting to draw parallels between the two, and to adopt a style of drawing to render these vistas that pays homage to the Japanese art of Ukiyo-e."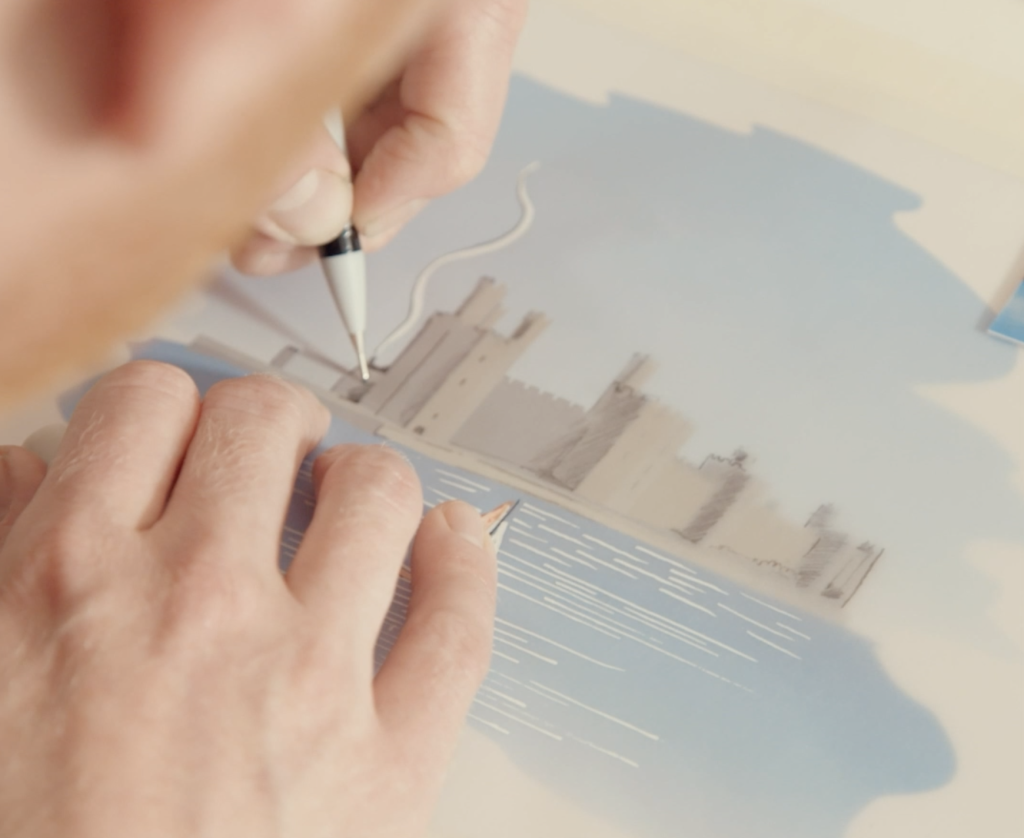 "My drawing process began by creating digital, tonal studies of the landscape, and creating colour washes and ombrés to give the drawings depth. I then added detail by overlaying hand drawn textures and marks to define rock faces and churning seas. Each individual drawing within the main repeat design was built up using multiple layers of drawing, and within each design, the use of colour and accent hues helped to bring out areas of interest."
"Colour has been inspired by, firstly, the red white, and blue representing the Union flag. I adapted the colours to incorporate the indigo blue seen in Japanese art. Three other colour ways were created, using soft hues and punchy accents inspired by springtime. Lilac is balanced by ochre, sage with pumpkin, and steel with rust."
DFS is the Official Team GB Homeware Partner for the Tokyo Olympic Games 2021. To view the full Yuttari range visit dfs.co.uk.